I had been busy recently, not busy playing games but busy typing notes, study and prepare for next year lesson. (Yes, cockroach is hardworking boy…) actually is because I scare next year cannot make it and my "absorption" of my content is really slow so I a bit "kiasu" (afraid to lose) start study first since November. But…

Last night in my hotmail inbox, I saw this: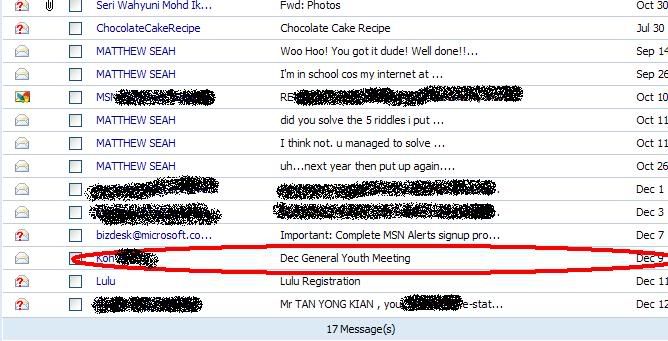 In the E-mail, it asked me to attend this monthly student/ youth meeting (I think I am still student right? So I think I still go under student meeting). And that meeting is something I have not attended for a long time. Since they didn't make it compulsory, so Cockroach doesn't go for it. I mean every first Sunday there is one global (where everyone around the world do the same thing) already. Then at the second or third weekends I have to attend the lecture (talk about this history, background and etc). These two things already had spent a lot of time already and if I still going for student meeting (talk about this history, background, and student life problem) I will waste more time on this thing which I doesn't want it to happen.

After I saw the E-mail, I didn't even get the chance to reply yet. Someone who call herself "May" phoned me at around

11pm
(Hello, who call people at that time?!?!)

May: Hello, I am May I am looking for YongKian (me) please.
Cockroach: Eh…which May is this?

May: From PC.
Cockroach: oh…*know what she wants to talk about already…*
May: You know, on 26 Dec we have a student meeting at
Cockroach: Oh, I know, at the new building 3rd floor right? I knew about it already.
May: Oh… so are you going because…

Cockroach: oh, I know. Because need to register before Sunday which is today right? I know I know this already few days ago.
May: So are you going?
Cockroach: I am quite busy recently. I still have not confirmed yet because…

May: Busy is excuse right? Busy playing games right? I know people like you play maple, gunbone (spelling, I don't know…) right?
Cockroach: Eh…sorry, I don't really play games. I am busy…
May: Busy what? Go for the meeting is good. It is good for our Singapore next generation future (blah, blah, blah, cockroach didn't understand what she talking about.)

Cockroach: But I really busy. I need to take care of my siblings.

May: Oh…you got siblings. How old?
Cockroach: 5 and 7.
May: oh…so cannot go? *sound disappointed*
Cockroach: Not confirm yet. I very time got last minute to do something. If I said I can go now, latter cannot go how? So eh…I said I cannot go.
May: Ok…
Cockroach: before you put down your phone, can I ask you one question?
May: Yes! *sound excited again*
Cockroach: eh…How you got my house number?
May: [reason she says…] (I don't want to put it up here because quite mad about that.)
I think this may is my new student "head" who in charge me. Cool, finally someone some quite young had in charge me. And this one isn't that bad, at least she speak politely, just that she called at the wrong time. And thanks for her understanding.
Why thank for her understanding? Because some of my past In-charge just simply won't understand and will, let's name that person superwoman:

Cockroach: I cannot go because I need to take care of siblings.

Superwomen: why not bring your brother and sister along?
Cockroach: *fainted*
Hello? I am only 15 year old poor guy can't bring 2 devil out. Not because I don't want. I tired it before and one of them almost gets lost. And I can't be bringing the two devils cross the busy roads and etc. PLEASE UNDERSTAND!

Okay, if anyone of my head, student leaders read it. Please understand my situation. I got my own life…

Evidence of my laptop has no games: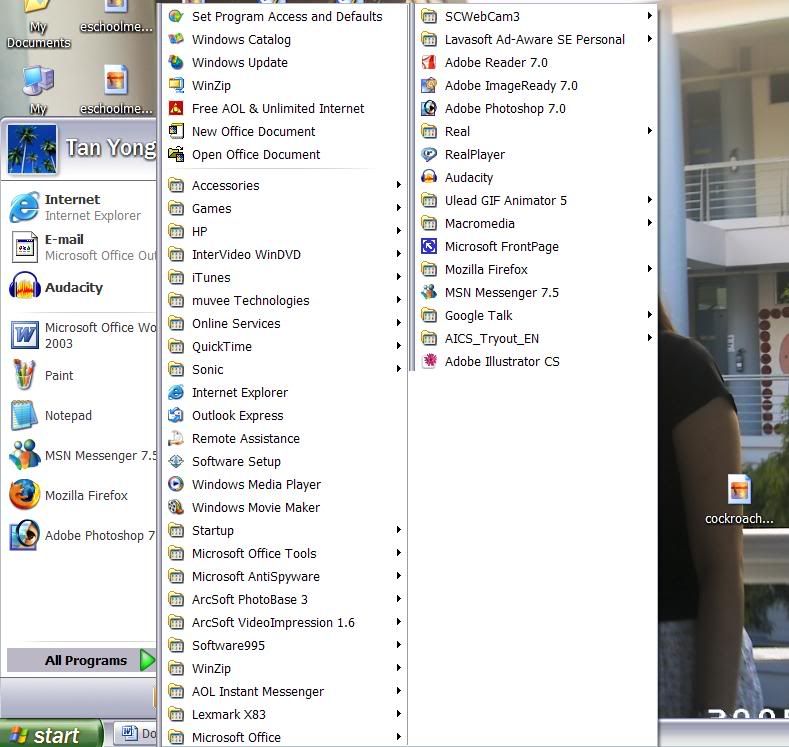 (I try to make this post as funny as possible, but I failed to do so.)
:
: