Last night, I received another Edusave Awards letter, saying that I have awarded "Eagles Award" You know, I was so happy until I can't sleep last night, ended up wake up at 12pm today (sleep until like pig).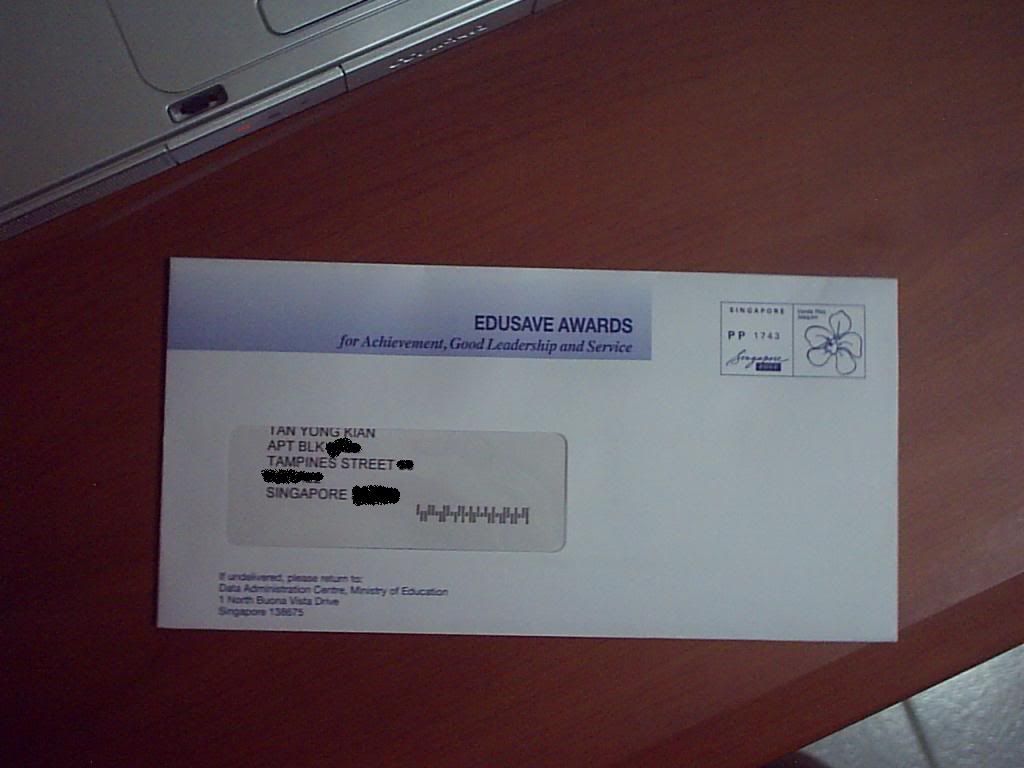 Well, my mum isn't the first one to know about this. She is sleeping while I got the letter (I open my mailbox at around 12Am last night). And she knew it when I wake up today. While, who got the first news of me getting Edusave Award of "Eagles Award"? Is it my girlfriend? No, I don't have girlfriend yet. Then, who got to know it first? Ha! Ha! Ha! Give you a hint, it is a disgusting animal. It is Lizard! Ha! Ha! Ha! Because I was chatting with him last night so he is the first one to know.
When my mum got to know about it, she asked: "How much you want to give me?" and I nearly fainted because of this. I already told her that I will give her some money from Edusave and the rest will be my support for my English tuition. No money, no tuition. No tuition, fail English. Fail English, end of my world. But, still, how much should I give my mum? $50 or $100 or don't tell me give $150 because I only get
$150
from Edusave Award of "Eagles Award".
Thanks to my CCA teacher who nominated me to get this award. JC, of course, who gave me a lot of chances, maybe if not JC, I won't started to do much in CCA, and won't get this award. Still remember, on the third day of End of year examination:
JC: YongKian, your CCA teacher and me nominated you for the Eagle Award.
Cockroach: Really?!?!?! Thank you. Thank you.

JC: Not confirm you will get it. We just submitted your name only.
Cockroach: You submit my name I already very happy.
The conversation is more or less like that. I can't really remember the whole conversation. But I still remember is the third day of end of year exam.
Really, have to thank JC, because she started to give me chance, and I started from there.

THANK YOU!
:
: