This post is in English and will not translate to Chinese.
这个post是以英语写的而不会翻译成华文。
National Novel Writing Month is back! Please support by signing up an account, and from today to end of this month write a Novel with 50,000 words. I know its crazy, but it can be done. I am going to write soon also. But, I don't think I can finish it. Never mind. I already very happy if I taking part. I think you can write in other langue, but I am writing in English. You will get something nice if you hit 50,000 words! Click here to visit the site.
I am one of the participants of the National Novel Writing Month: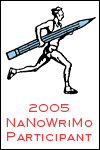 :
: