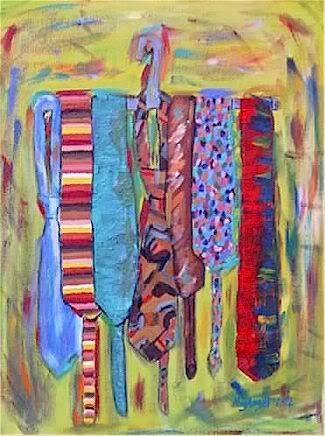 Today is a wasteful day. Why? I went out wanted to buy ties, but ended up get nothing home because of my mother.

I already give my mother face by going Bedok Interchange and buy. She says her friend said that there got and some places sell $5 per tie. Cockroach here also wants to save money, so went there and take a look.

Asked a few shops, they sell

ties in the range of $10 to $20, which consider very cheap. So cockroach started to ask help from those shop owners, ask them to help Cockroach choose ties. But…



Cockroach: Uncle, how much is the tie?


Uncle: First time is it? Charge you $10.




Mom: Oh… (Already not happy, she wants to buy $5 tie…)




Cockroach: Eh…Uncle can help me choose, see I like it or not. I first time buy tie.




Uncle: *choose a tie with pictures of a panda eating bamboo stick*


Cockroach (Thinking): Got people wear tie that got panda eating bamboo stick pictures?
Cockroach: Don't want!!! I don't want picture, just normal tie will do, this look very cartoon.
Uncle: Don't want pictures har?
Uncle: *choose again, and choose a super red tie*


Cockroach: Eh… got other type? I don't want it too be so bright, maybe dark colours will some lines?

*Actually saw a tie that I like. It is a light and dark blue with lines that make it into lots of small little square.*


Uncle: How about this one? *Uncle chooses the tie I am aiming!!!*


Cockroach: Yes, like it very much. $10 is it?




Uncle: yea, give you discount is $10.




Mom (Suddenly shouted): $10??? Cannot discount some more?




Uncle: Cannot liao lah. See *show the price tag* from $12.90 to $10, discount a lot liao leh. I see him student I discount so many.




Mom: but $10 very expensive leh.


Uncle: No lah, this one is good material, this tie no matter what won't have folded lines. Why not discount $1 more. $9 for this tie, very cheap liao.


Mom: eh… we walk around first and come back and see want or not.




*Mom drag cockroach away.*



I want that tie! I like that tie very much! Eyeing for that for more than 1 minute! The tie design and colour represent

honesty

,

firm

,

gentlemen

,

mature

, and many more! So much that I can't list them all. I am so dieing to get it but mom said…



Mom: Auntie Susu said our area, Tampines got $5, come here pay $10 for a tie for what? Don't want lah, why you so stupid?


Cockroach: but where?


Mom: Don't know leh, Auntie Susu forgot liao. She last year got buy $5 tie for his son.




Cockroach: you don't know where, expected we look shop by shop in whole Tampines is it? And now the shop still around meh? Won't the shop close down because of big lose?




Mom: *Scold and scold and scold…because I want that $10 tie…*



Here is the problem when Aunties believe other Aunties words. And worst, believe with no sense. Last year price can be $5, but this year GST increase, this and that increase, how can it be $5? And I don't know where to get that $5 tie, will I like the design? Will it suit me? Where is the shop located???!!! *sigh*

Still, I ended up didn't buying that tie, wasting one whole night hanging a round Bedok Interchange. A waste, from $12.90 to $9…maybe mom is right, maybe there is a $5 tie selling one small corner of Singapore. We shall see can we get a $5 tie or not.
:
: